Alen Bogataj - Bass guitar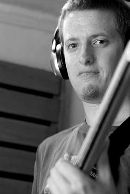 Alen is a multi-task instrumentalist and founding member of Divje jezero and »Kar ces« brass band. He started his musical journey in junior high school when he studied accordion. Later he was completely seduced by rock and roll and jazz and began playing bass guitar and drums. He performed on numerous shows and festivals across the Europe (llmenau Jazz, Gronau Jazz-fest, Saalfelden jazz, Umbria jazz, Jazz cerkno, Druga Godba,… ) and was always improving his musical skills on seminars and masterclasses. Currently he's a member of Divje jezero, Kar Ces brass band, Portona Express and Project 27.
---
Luka Čibej - Drums, Percussion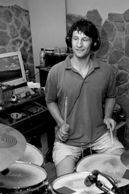 Coming from a musical family, Luka started learning clarinet and joined Idrija's Wind band, but soon he discovered that clarinet is not the best choice for rock, so he began taking drum lessons and discovered his true passion. He played drums in bands like "Zaspana grapa, Flashback, Pollux, StereoTipi, Jazz in ti big band" and others. He always wanted to create his own music not limited with styles, so in 2008, together with Alen they formed Divje jezero where he's a drummer and composer.
---
Aleš Golja - El. Guitar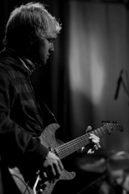 Same as Alen and Luka, Aleš began playing piano in school and also switched to a guitar, wich was a logical decision while listening to bands like Hendrix, Led Zeppelin,… He collaborated with artists such as FusionPOP, Marko Vozelj band, Zablujena generacija, Felix Langus, Jazz in Ti Big band. During the day a chemical engineer is currently besides Divje jezero, a member of a Omar Naber's band and Banditi.
---
David Križaj - Keys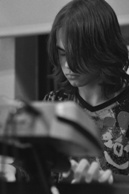 Shortly after he began taking piano lessons in musical school, David was deep into blues and jazz. After his formal education, he took private jazz piano lessons and improved his playing on various masterclasses and jazz camps. After playing in some local bands, he joined Divje jezero in 2010. Beside music, David also studies electrical engineering.
---
Tomi Peljhan - Saxophones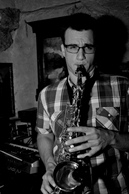 Tomi began learning clarinet for eight years. In junior high school he joined David's band where he became familiar with more jazz oriented music and basics of improvisation. He began taking also saxophone lessons and after some occasional gigs with Divje jezero he become a full-time band member. Tomi is also a first chair clarinet player in Idrija's wind band – one of the oldest wind bands in Europe.
---